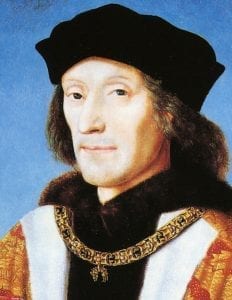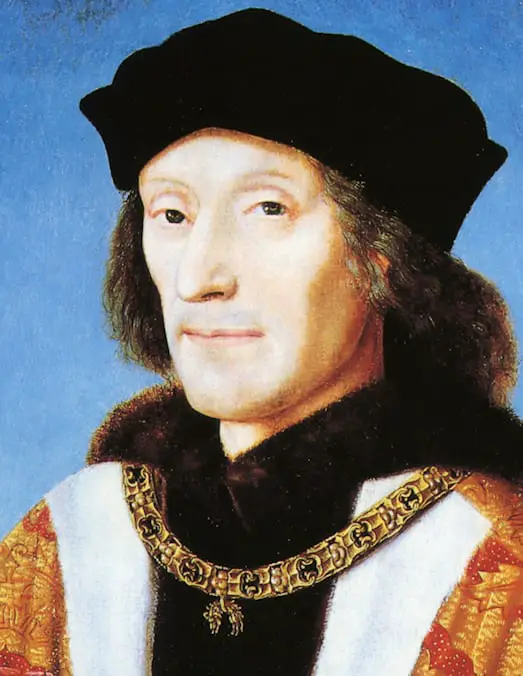 A chronology for the years 1491 and 1492 for Henry VII's reign showing dates, events and details.
Events are coded:
 Births, Baptisms, Marriages and Deaths 

Trials, Imprisonments and Executions

Wars, Battles and Rebellions

Education, Art, Travel and Culture

Property and Possessions

Titles and Appointments

Acts of Parliament

Treaties and oaths

Church and Religion

28th June 1491
Birth of Henry VIII
A second son, Henry, was born to Henry VII and Elizabeth of York at Greenwich Palace.
early July 1491
Prince Henry Baptised
Prince Henry was baptised in the Church of Observant Friars at Greenwich Palace by Richard Foxe, Bishop of Exeter.
19th October 1491
Richard Empson became Speaker of the Commons
Richard Empson
representing Northamptonshire in parliament, became Speaker of the Commons.
31st October 1491
Prince Henry Knight of the Bath
Prince Henry was made a Knight of the Bath.
November 1491
Perkin Warbeck
Local people in Ireland believed that
Perkin Warbeck
, an apprentice to a silk merchant, was Richard of York. York was the son of King Edward IV and would be rightful King of England. News of the appearance of the young Duke of York spread and Warbeck was invited to the court of his 'aunt' Margaret of Burgundy.
21st December 1491
Truce of Coldstream
Henry agreed a peace treaty with James IV of Scotland. Henry wanted the treaty to last for five years but James would only agree to one year.
1492
Perkin Warbeck
Perkin Warbeck, arrived at the court of Burgundy where Margaret of Burgundy acknowledged him as her nephew, Richard, the younger son of King Edward IV.
1492
Tariff War with Italy
Fixed tariffs were imposed by England on all Italian imports. The Italians retaliated by depriving English trading ships of a return cargo.
1492
Thomas More attended Oxford
Thomas More, aged 14 years, entered Oxford University.
8th February 1492
Bishop of Bath and Wells
Richard Foxe, Bishop of Exeter, became Bishop of Bath and Wells.
8th June 1492
Death of Elizabeth Woodville
Elizabeth Woodville, Queen consort of Edward IV, mother of Edward V and Elizabeth of York, died at Bermondsey Abbey. She was buried at Windsor Castle.
2nd July 1492
Princess Elizabeth born
A second daughter, Elizabeth, was born to Henry VII and Elizabeth of York at Sheen Palace in Surrey.
October 1492
Conflict with France
King Charles VIII of France was trying to annex Brittany. King Henry wanted to maintain his alliance with Brittany so sent troops across the Channel. Unfortunately the force was unable to prevent Charles from taking Brittany. In response King Henry crossed the Channel and invaded Brittany at the head of an army. Charles, having just secured Brittany, was reluctant to fight and agreed to negotiate for peace.
November 1492
Peace with Scotland
Henry negotiated an extension of the peace with Scotland for a further two years.
3rd November 1492
Treaty of Etaples
This peace treaty between England and France was negotiated by Richard Foxe. It provided for a peace which would last until one year after the death of the King that lived the longest. Each King agreed not to give assistance to the other's enemies. Henry VII would also receive an annual pension from France and in return all English territory in France, apart from Calais, would be returned to France.
First published 2017 Aug 31, 2020 @ 2:48 pm – Updated – Oct 13, 2022 @ 4:47 pm
Harvard Reference for this page:
Heather Y Wheeler. (2017 – 2021). Henry VII Chronology 1491 – 1492 Available: http://www.tudornation.com/henry-vii-1491-1486-chronology Last accessed [date]