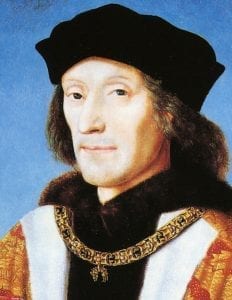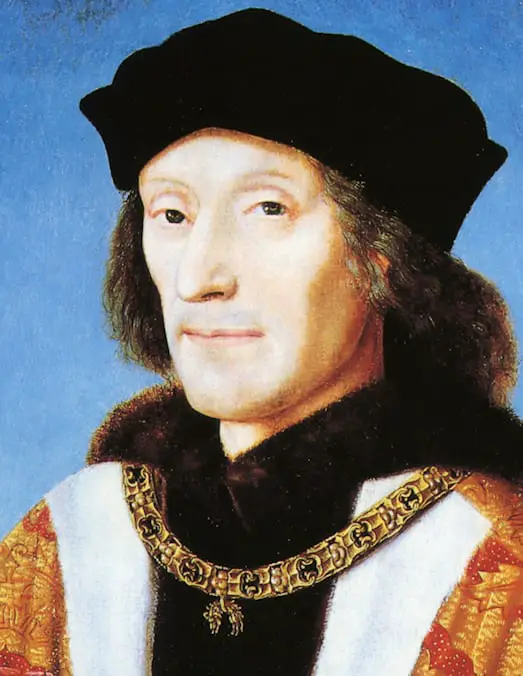 A chronology for the years 1489 and 1490 for Henry VII's reign showing dates, events and details.
Events are coded:
 Births, Marriages and Deaths 

Trials, Imprisonments and Executions

Wars, Battles and Rebellions

Property and Possessions

Titles and Appointments

Acts of Parliament

Treaties and oaths

Church and Religion

Education, Art Travel and Culture

1489
England
The population of England was about 3 million. Due to yearly outbreaks of plague and sickness the population stayed at about this number. There was a general shortage of Labourers which meant wages were high and rents low.
1489
Thomas Howard Released
Thomas Howard, Earl of Surrey, son of John Howard, Duke of Norfolk, was released from the Tower. He had been imprisoned following the Battle of Bosworth Field because he had fought for Richard III.
February 1489
Treaty of Redon
This was a treaty of mutual support between England and Brittany. Henry wanted to prevent France taking control of Brittany since the alliance gave him a foothold on the continent.
February 1489
Yorkshire Rebellion
Parliament granted Henry a tax of £100,000 to help Brittany maintain independence from France. Henry believed the money would buy him an ally in Brittany and also give him a base if he wished to invade France.
Royal commissioners were appointed to collect the tax. When they tried to collect the tax they were met by hostile crowds. The hostility was particularly strong in Yorkshire. The the Earl of Northumberland was murdered and the city of  York put under siege by rebels.
Henry had no choice but to raise an army to keep the rebellion contained. The recently released Earl of Surrey proved himself loyal to the Tudors by helping to put the rebellion down.
27th March 1489
This treaty between England and Spain agreed that
Prince Arthur
would marry Catherine of Aragon when they were both of age to marry. Catherine's dowry would be 200,000 crowns.
2nd July 1489
Thomas Cranmer was born
A son, Thomas was born to Thomas and Agnes Cranmer in Aslockton, Nottinghamshire. He would later orchestrate the English Reformation and become Archbishop of Canterbury.
October 1489
Sovereign minted
The golden sovereign was introduced. It depicted Henry VII wearing the imperial crown.
28th November 1489
Birth of Margaret Tudor
A daughter, Margaret, was born to Henry VII and Elizabeth of York at the Palace of Westminster.
29th November 1489
Arthur Prince of Wales
Prince Arthur was made a Knight of the Bath. He was also created Prince of Wales and Earl of Chester.
1490
Thomas More
Thomas More, aged 12 years, became a page in Archbishop Morton's household.
First published 2017; updated and re-published Aug 31, 2020 @ 11:22 am – Updated – Dec 7, 2021 @ 12:22 pm
Harvard Reference for this page:
Heather Y Wheeler. (2017 – 2021). Henry VII 1489 – 1490 Chronology Available: http://www.tudornation.com/henry-vii-1489-1490-chronology Last accessed [date]