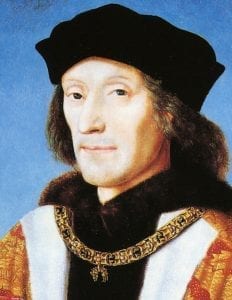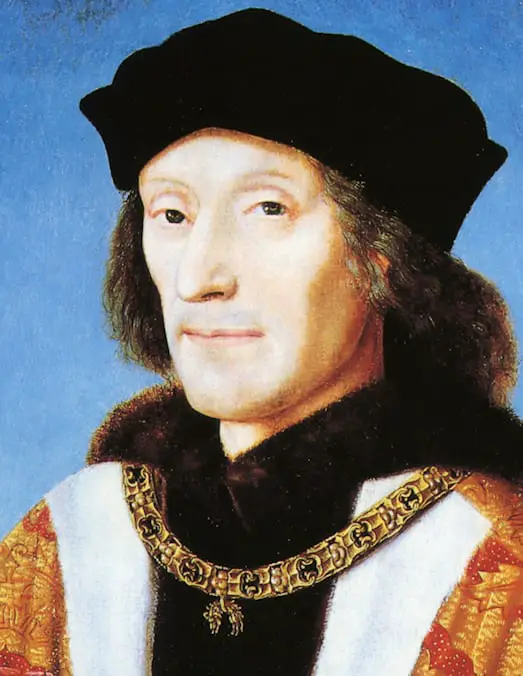 A chronology for the years 1493 and 1494 for Henry VII's reign showing dates, events and details.
Events are coded:
 Births, Baptisms, Marriages and Deaths 

Trials, Imprisonments and Executions

Wars, Battles and Rebellions

Education, Art, Travel and Culture

Property and Possessions

Titles and Appointments

Acts of Parliament

Treaties and oaths

Church and Religion

1493
Perkin Warbeck
The pretender,
Perkin Warbeck
, was living regally in Antwerp as Richard Duke of York. He was in regular contact with his 'aunt' Margaret of Burgundy. Henry decreed that English merchants were not allowed to trade with Antwerp.
8th March 1493
England and Spain
This was a follow up treaty to the
Treaty of Medina del Campo 1489
and provided that Catherine of Aragon would come to England in 1498 when she was 12 years old.
5th April 1493
Prince Henry titled
Henry VII's second son, Prince Henry, was created Constable of Dover Castle and Lord Warden of the Cinque Ports. Henry VII chose to confer these, and other titles, on his children rather than on noblemen as was usual, out of a fear that if too many noblemen held positions of power they may rebel against him.
June 1493
Prince Henry titled
Prince Henry was created Earl Marshall of England.
13th November 1493
Bishop of Salisbury
John Blythe was made Bishop of Salisbury.
17th November 1493
Birth of John Neville
John was born the son of Richard Neville, 2nd Baron Latimer and Anne Stafford. He married 3 times, his third wife being the sixth wife of Henry VIII, Katherine Parr.
1494
Vagabonds and Beggars Act
This act was introduced in a bid to stop gamblers and beggars from making a living by taking honest worker's wages. The local authorities were instructed to seek out and punish all vagabonds, idle and suspect persons, by putting them in the stocks before evicting them from the town. The act also stated that apprentices, servants and labourers should not play tennis, dice, cards, bowls or any other unlawful game except at Christmas when they could be played under the watch of their masters.
1494
Thomas More entered the Inns of Court
Thomas More left Oxford University and entered the Inns of Court where he would pursue a career in law.
13th February 1494
William Warham Master of the Rolls
William Warham
was appointed Master of the Rolls. The Master of the Rolls is the second senior judge and member of the Privy Council.
May 1494
Maximilian I supported Perkin Warbeck
Henry VII imposed economic sanctions on the Holy Roman Emperor, Maximillian, because he had declared Perkin Warbeck to be the rightful King of England.
July 1494
Bishop of Durham
Richard Foxe, Bishop of Bath and Wells, was made Bishop of Durham.
September 1494
Prince Henry titled
Prince Henry was appointed Lord Lieutenant of Ireland. His deputy was Sir Edward Poynings.
31st October 1494
Prince Henry titled
Prince Henry was created Duke of York
First published 2017; updated and republished Aug 31, 2020 @ 10:03 am – Updated – Oct 13, 2022 @ 4:47 pm
Harvard Reference for this page:
Heather Y Wheeler. (2017 – 2021). Henry VII 1493 – 1494 Chronology Available: http://www.tudornation.com/henry-vii-1493-1494-chronology Last accessed [date]