Richard Empson was the son of Peter Empson and Elizabeth Joseph. His exact date of birth is not known but he is believed to have been born around 1450 in Towcester, Northamptonshire.
Education and Work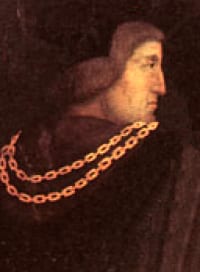 There is very little information about Empson's early life but records show that he was training as a lawyer at Middle Temple, one of the Inns of Court, in 1470. By 1478 he had attracted the attention of King Edward IV who appointed him Attorney-General for the Duchy of Lancaster. He lost the position when Richard III took the throne in 1483 but was re-appointed after Henry Tudor defeated Richard at the Battle of Bosworth Field and became King.
In 1491 he was chosen to be Speaker of the House of Commons and three years later he was a member of the King's council. By 1504 he was Chairman of the Council Learned in Law. This Council had been established to hear cases that King Henry VII wanted to pursue. Edmund Dudley was also a member of this council. Henry VII wanted to increase the wealth of the Crown and Empson and Dudley were charged with making this happen. Offices, wardships and licenses to marry were sold and they frequently accepted pay-offs of large sums of money which helped to fill the royal coffers. As well as increasing royal finances, Dudley's own wealth increased during this time. Edmund Dudley and Richard Empson soon became King Henry VII's most hated ministers.
Marriage and Children
Richard Empson married Jane Hill around 1464 when he was still a teenager. They had six children:
John, born around 1465
Thomas, born around 1466
Mary, born around 1470
Anne born around 1472
Jane born around 1480
Execution
King Henry VII died in April 1509 and was succeeded by his son Henry VIII. The new king was determined to show the people that his rule would be very different to that of his father. Richard Empson and Edmund Dudley were accused of plotting to take control of the throne after the death of Henry VII, a treasonable offence. They were found guilty and sentenced to death. They remained imprisoned in the Tower of London until 15th August 1510 when they were executed by beheading.
Published Jun 27, 2020 @ 1:30 pm – Updated – Oct 13, 2022 @ 9:35 am
Harvard Reference for this page:
Heather Y Wheeler. (2020). Richard Empson 1450 – 1510 Available: https://www.tudornation.com/richard-empson-1450-1510 Last accessed [date]