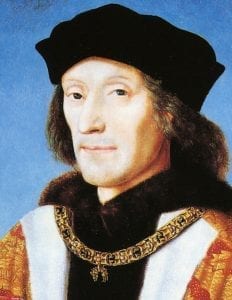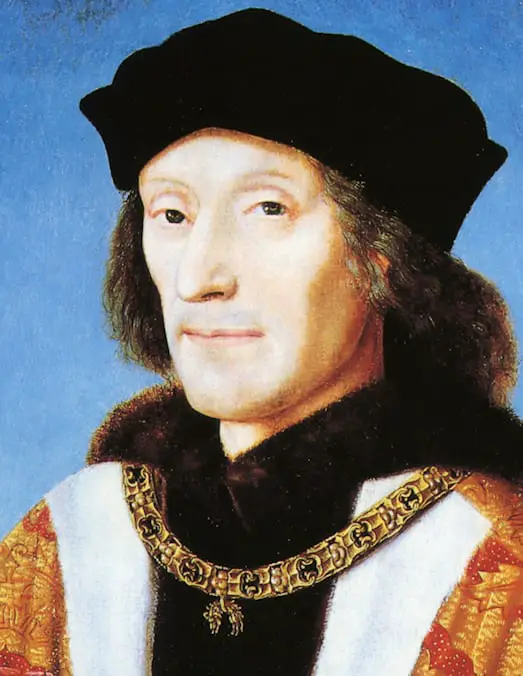 A chronology for the years 1487 and 1488 for Henry VII's reign showing dates, events and details.
Events are coded:
 Births, Marriages and Deaths 

Trials, Imprisonments and Executions

Wars, Battles and Rebellions

Property and Possessions

Titles and Appointments

Acts of Parliament

Treaties and oaths

Church and Religion

Education, Art, Travel and Culture

1487
John Morton became Lord Chancellor.
John Morton
, Archbishop of Canterbury and Henry's most trusted advisor, became Lord Chancellor.
1487
Acts of Parliament
It was declared that an Act of Parliament would not be valid unless it had been approved by the House of Commons.
1487
Stockport Grammar School
Stockport Grammar School was founded in the north east of England.
January 1487
Lambert Simnel
The Yorkists were opposed to the Tudor rule of Henry VII and wanted their own house restored.  They  put forward
Lambert Simnel
, the son of a tradesmen, as Edward, Earl of Warwick, the son of Richard III's elder brother George. Margaret of Burgundy, Edward IV's sister, backed Lambert Simnel. She had no love for the Tudors.
29th January 1487
Bishop of Exeter
Richard Foxe became Bishop of Exeter.
2nd February 1487
Lambert Simnel
Henry VII responded to the Yorkist claim that Lambert Simnel was Edward Earl of Warwick. He had the real Earl of Warwick in the Tower of London and paraded him through the streets to show that Simnel was an imposter.
24th May 1487
Lambert Simnel
Lambert Simnel was crowned King Edward VI in Christ Church, Dublin.
4th June 1487
Lambert Simnel
Lambert Simnel landed near Furness and made his way towards York. The Earl of Lincoln had raised a large army in support of the pretender. However, the royalists in York called for Simnel to be surrendered.
16th June 1487
Battle of Stoke Field
Lambert Simnel's army led by the Earl of Lincoln, John de la Pole, attacked a royalist army led by the Earl of Oxford at Stoke near Newark. The rebels were defeated and the Earl of Lincoln was killed. Lambert Simnel was captured. Henry VII realised that Simnel had been used and set him to work in the royal kitchens.
25th November 1487
Coronation of Elizabeth of York
Elizabeth of York was crowned Queen consort of England and Wales at Westminster Abbey.
1488
Birth of Thomas Audley
A son, Thomas, was born to Geoffrey Audley and his wife in Earls Colne, Essex. He would go on to become Lord Chancellor to Henry VIII.
1488
Birth of Myles Coverdale
Myles Coverdale was born in Yorkshire. He would later produce the first translation of the Bible into English.
1488
Jasper Tudor, Cardiff Castle
Jasper Tudor
, Duke of Bedford, took possession of Cardiff Castle.
First published 2017; updated and re-published Aug 27, 2020 @ 9:23 pm – Updated – Oct 13, 2022 @ 4:48 pm
Harvard Reference for this page:
Heather Y Wheeler. (2017 – 2021). Henry VII 1487 – 1488 Chronology Available: https://www.tudornation.com/henry-vii-1487-1488-chronology Last accessed [date]