Thomas Wolsey – Early Life / Education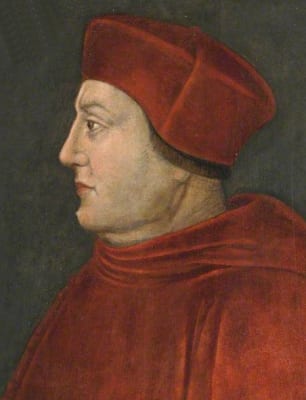 Thomas Wolsey was born in March 1473 at Ipswich, Suffolk. He was the son of Robert Wolsey, a butcher and Joan Daundy. 
Wolsey's father was a successful butcher and cattle dealer and the family led a comfortable life. Young Wolsey was educated at the local Ipswich school, before attending Magdalen College School in Oxford. He then transferred to Magdalen College at Oxford University where he studied Theology.
Thomas Wolsey decided to become a priest and was ordained on 10th March 1498 but remained in Oxford, teaching at Magdalen College School. He was later appointed Dean of Divinity at the school.
Family Life
When Wolsey was first ordained as a priest, there was no law that priests should be celibate. In the early 1500s, Wolsey co-habited with Joan Larke and they had two children. Thomas Wynter was born around 1510 and Dorothy was born around 1512.
When Wolsey was appointed Archbishop of York in 1514, he ended his relationship with Larke. He later arranged for her to marry George Legh and provided the dowry. Wolsey's son, Thomas, was sent to Willesden where he was tutored by Maurice Birchinshaw. His daughter, Dorothy, was adopted by John Clansey and later entered Shaftesbury Abbey as a novice.
Rise to Power
In 1500, Thomas Wolsey, Chaplain to the Marquis of Dorset, was appointed rector of St Mary's Church in Limington, Somerset. However, he had no intention of remaining in Somerset and followed the Marquis of Dorset to court whenever he could. Two years later he became Chaplain to Henry Deane, Archbishop of Canterbury. When Deane died in 1503, he became Chaplain to Sir Richard Nanfan, Deputy Lieutenant of Calais. Nanfan was impressed with Wolsey and recommended him to King Henry VII.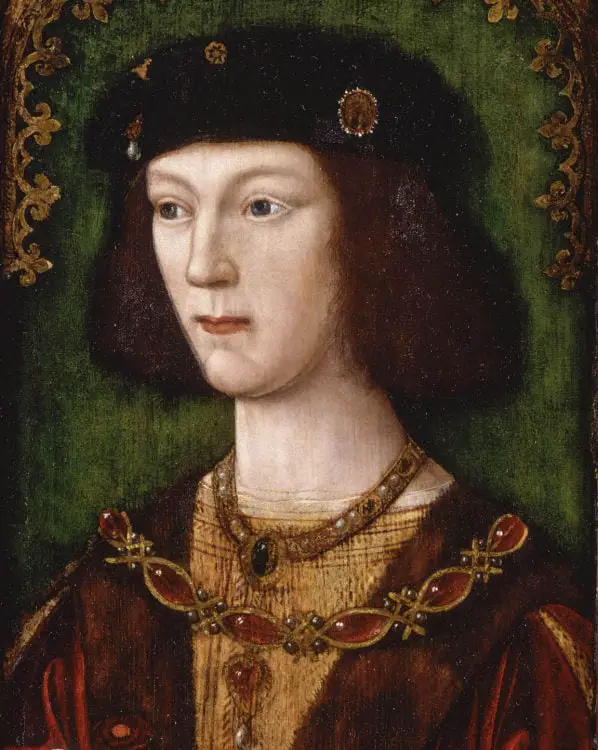 After Nanfan's death in 1507, Wolsey became Chaplain to King Henry VII. He also became Secretary to Richard Foxe, Keeper of the Privy Seal.
King Henry VII died on 21st April 1509 and was succeeded by his son Henry VIII. The new King had no interest in the government of the country and left the administration to his ministers. In November 1509, Wolsey became King's Almoner on the recommendation of Richard Foxe.
In 1510, Wolsey was made a member of the Privy Council. Like other members of the Council, Wolsey did not support the King's plans to invade France, however, unlike other members of the Council he did not voice his opposition. Rather, he watched Richard Foxe and William Warham fall from favour and used the opportunity to rise further by enthusiastically helping Henry plan for war. In 1511, he was appointed to the King's Council.
While Henry was in France, King James IV invaded England and was defeated and killed on 9th September 1513 at the Battle of Flodden Field. This removed any threat of further invasion by Scotland and also meant that Scotland would not be in a position to support France.
Despite taking Therounne and Tournai in the Autumn of 1513, it was clear by April 1514 that further gains in France were unlikely. Thomas Wolsey was chief negotiator for the peace treaty which was to be sealed with the marriage of Henry's sister, Mary to King Louis XII.
In 1514, Wolsey was appointed Bishop of Lincoln and Archbishop of York and in 1515 he was made a Cardinal and became Lord Chancellor. In 1515 he acquired Hampton Court and used his vast wealth to renovate the building and estate. Over the next few years Wolsey was at the height of his power.
Thomas Wolsey successfully negotiated the Treaty of London in 1518 which provided for a perpetual peace between England and France and organised the summit meeting between Henry VIII and Francis I of France which became known as the Field of the Cloth of Gold.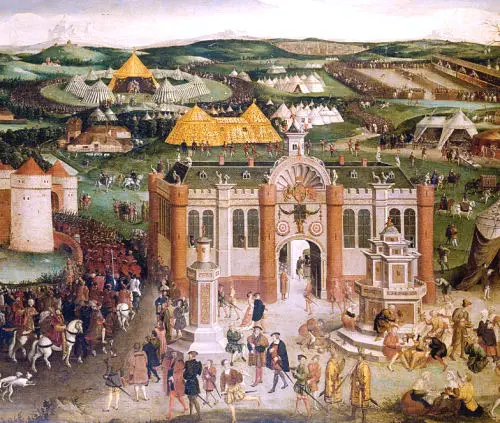 The King's Divorce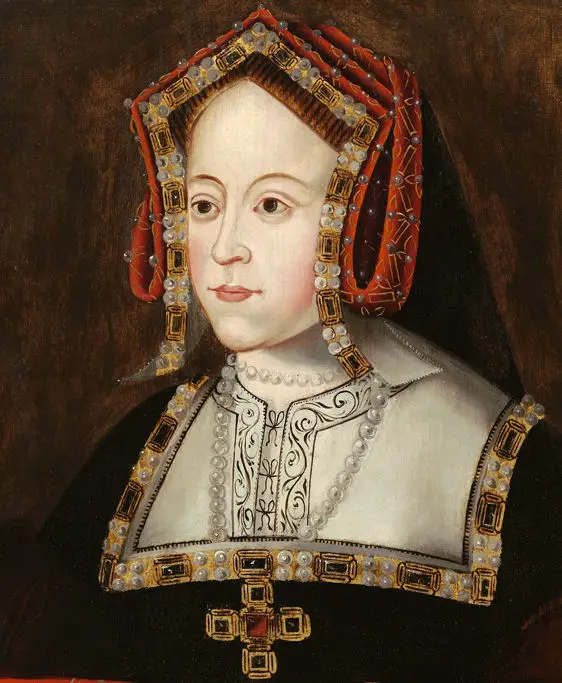 In 1523, Wolsey discovered that Henry Percy, son of the Duke of Northumberland, had made a secret betrothal with Anne Boleyn despite a pre-contract to marry Mary Talbot. Wolsey sent Percy back to Northumberland and forbade him to communicate with Anne Boleyn. Anne swore revenge on Wolsey.
By 1525, Henry VIII had begun to doubt the validity of his marriage to Catherine of Aragon. He felt that his lack of a male heir was a punishment from God for marrying his brother's wife. He was also attracted to Anne Boleyn, the younger sister of his former mistress, Mary Boleyn. In the Spring of 1526, Henry asked Anne to become his mistress, but she refused saying she would only surrender her virginity to the man she married. Thomas Wolsey was given the task of securing Henry's divorce from Catherine of Aragon. He was unaware of Henry's interest in Anne Boleyn.
Thomas Wolsey planned to use his power as a Papal Legate to preside over an ecclesiastical court which would try the King's marriage. Henry would plead guilty to the charge of cohabiting with his brother's widow, the court could then order him to separate from Catherine and declare the marriage invalid leaving Henry free to marry again.
Unfortunately, Wolsey's plan did not work. Some members of the ecclesiastical court doubted their authority to pass judgement and believed that only the Pope could grant an annulment of the King's marriage. As the Pope had been captured by Catherine's nephew, Charles V, it was unlikely he would find in Henry's favour.
Fall from Favour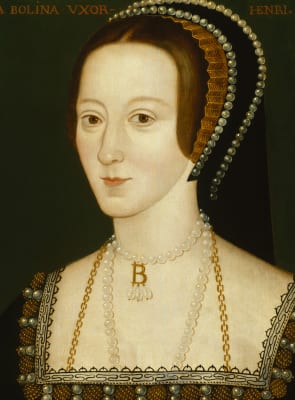 In the Summer of 1527, Wolsey became aware that Henry VIII intended to marry Anne Boleyn once he secured his divorce. This put Wolsey in a difficult position. Anne had sworn revenge on Wolsey for dismissing Henry Percy and if she became Queen she would work against him. Yet if he failed to secure Henry's divorce he would be dismissed by the King.
Nevertheless, Wolsey continued to try to secure Henry's divorce. He managed to secure the Pope's agreement to a Legatine court which would be chaired by himself and Cardinal Lorenzo Campeggio. Unbeknown to Wolsey, the Pope told Campeggio to delay proceedings as much as possible.
The Legatine court opened at Blackfriars on 31st May 1529. Henry and Catherine were both summoned to appear before the court. However, instead of answering questions, Catherine questioned the legitimacy of the court and made formal appeal to Rome. The Pope subsequently withdrew the authority of the court.
Henry was furious at the continual delay to securing his divorce. He declined an invitation to entertainments at Wolsey's home and Thomas Wolsey was not invited to join the court for the summer progress.
The King had heard the ideas of Thomas Cranmer and believed that he might succeed where Wolsey had failed. In September In October 1529, Wolsey was charged with praemunire and was sacked as Chancellor. His properties, including Hampton Court, were confiscated by the King. He was allowed to retain the Archbishopric of York and began the journey north.
In October, Henry was told that Wolsey had been working to bring about Anne Boleyn's downfall and a warrant for his arrest was drawn up. On 4th November Henry Percy arrived at Cawood Palace where he placed Wolsey under arrest and told him he would be taken to London.
Wolsey did not make it to London, his health deteriorated on the journey and he died at 8am on 29th November 1530 at the Abbey of St Mary in Leicester. He is buried in Leicester  Abbey.