Edmund Dudley was the son of Sir John Dudley of Atherington and Elizabeth Bramshott. He was born around the year 1462 in West Sussex.
Education and Work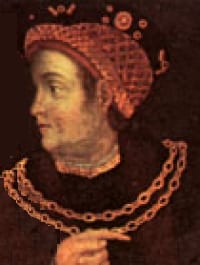 Details of Dudley's early education are not recorded but he attended Oxford University before entering Gray's Inn to train as a lawyer. In 1491 Edmund Dudley became Member of Parliament for Lewes in East Sussex. Six years later he was appointed under-sheriff of London. By 1504 he was a prominent member of the Council Learned in Law. This Council, chaired by Richard Empson, had been established to hear cases that King Henry VII wanted to pursue. Henry VII wanted to increase the wealth of the Crown and Empson and Dudley were charged with making this happen. Offices, wardships and licenses to marry were sold and they frequently accepted pay-offs of large sums of money which helped to fill the royal coffers. As well as increasing royal finances, Dudley's own wealth increased during this time. Edmund Dudley and Richard Empson soon became King Henry VII's most hated ministers.
Marriage and Children
Edmund Dudley married Anne Windsor in 1494 and they had a daughter, Elizabeth. Anne died at some point before 1502 when Dudley married Elizabeth Grey, daughter of Edward Grey, Viscount Lisle. Edmund and Elizabeth had three sons: John, Andrew and Jerome.
Execution
King Henry VII died in April 1509 and was succeeded by his son Henry VIII. The new king was determined to show the people that his rule would be very different to that of his father. Edmund Dudley and Richard Empson were accused of plotting to take control of the throne after the death of Henry VII, a treasonable offence. They were found guilty and sentenced to death. They remained imprisoned in the Tower of London until 15th August 1510 when they were executed by beheading.
Published Jun 22, 2020 @ 1:38 pm – Updated – Oct 13, 2022 @ 9:36 am
Harvard Reference for this page:
Heather Y Wheeler. (2020). Edmund Dudley 1462 – 1510 Available: https://www.tudornation.com/edmund-dudley-1462-1510 Last accessed [date]