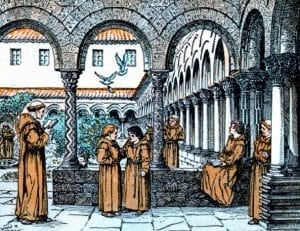 A chronology of the Tudor Church and Religion in the reign of Henry VIII
Please Note: This timeline is a work in progress
1510 (April)
Friendship with the Pope
The Pope sent Henry VIII a golden rose as an act of friendship.
25th March 1513
John Colet anti-war sermon
King Henry VIII attended a sermon preached by John Colet, Dean of St Paul's Cathedral. Colet condemned 'those Princes that preferred to follow Alexander the Great and Julius Caesar rather than following Jesus Christ in the promotion of peace.' After the service Henry spoke to Colet stating that it was a bad idea to denounce war as evil when your king is about to invade France with the Pope's blessing.
Published Feb 17, 2021 @ 3:10 pm – Updated – Oct 13, 2022 @ 4:59 pm
Harvard Reference for this page:
Heather Y Wheeler. (2021). Tudor Church and Religion Chronology – Henry VIII Available: http://www.tudornation.com/tudor-church-and-religion-chronology-henry-viii Last accessed [date]