First Lottery Background
Although raffles had been held previously this was the first official lottery chartered by Queen Elizabeth I.
The first lottery was held to raise money for the improvement and defence of the country and to help support the poor. Money raised from the venture was also used to improve the navy that defeated the Spanish Armada in 1588.
Lottery Tickets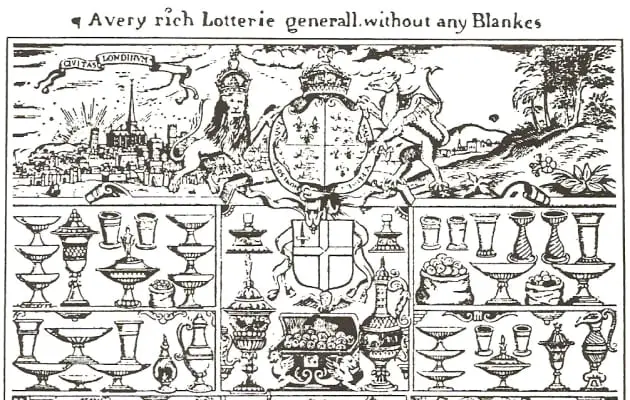 40,000 tickets priced 10 shillings each went on sale at St Paul's Cathedral in 1567.  The price of the tickets meant that only the very rich could afford to buy. Some poorer people formed syndicates to purchase a single ticket.
The tickets remained on sale until the first draw was made on 11th January 1569. In effect this first lottery took the form of a 3 year interest-free loan to the government – the notion of making it a prize-winning venture probably enticed more people to take part than would have done if they had simply been asked to loan the money to the government.
Prizes
All ticket holders won a prize of silver plate, money, jewellery or other valuables. The top prize was £5,000 in cash, a huge sum of money.  The ticket depicted plate, goblets, jewellery and coins to encourage people to buy tickets. Draws were held daily from 11th January 1569  to 6th May 1569.
Legacy
Following the success of this first lottery other private lotteries were often held to raise funds for private ventures. The Virginia Company was one company that used a similar scheme to raise funds for the settlement of Jamestown, Virginia in America.
An English state lottery was run by the government from 1694 to 1826 when opposition to the scheme forced it to end.
The National Lottery run by Camelot held its first draw on 19th November 1994 and continues to this day.
First published 2019; updated and republished Oct 13 2022 @ 6:32 pm – Updated – Oct 13, 2022 @ 6:34 pm
Harvard Reference for this page:
Heather Y Wheeler. (2019 – 2022). The First Lottery in Elizabethan England Available: https://www.tudornation.com/the-first-lottery-in-elizabethan-england Last accessed [date]