Queen Mary I Early Years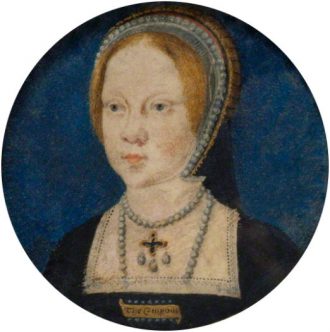 Queen Mary I was born on 18th February 1516 to King Henry VIII and Catherine of Aragon at Greenwich Palace, London. She was the couple's second child, her brother, Prince Henry had died in 1511 at the age of six weeks. 
Princess Mary's household was run by Margaret Pole, Countess of Salisbury. She was educated at home and learned to speak Latin, French and Spanish. She was also taught music, dancing, needlework and riding. At the age of four years she played the virginal for French ambassadors.
In 1525, Mary was sent to live at Ludlow Castle. The traditional residence of the Prince of Wales had last been occupied in 1502 by Mary's mother and her first husband, Prince Arthur. Mary was never formally invested as Princess of Wales but was often referred to as such.
Mary's early years were happy ones. As the only child of the reigning monarch she was frequently the centre of attention and held in high esteem. She was betrothed three times before the age of eleven. First in 1518 to Francis, son of King Francis I of France, secondly to Charles V, son of Philip I of Spain and thirdly to Henri, second son of Francis I. 
Lady Mary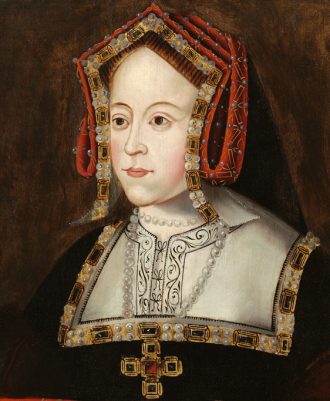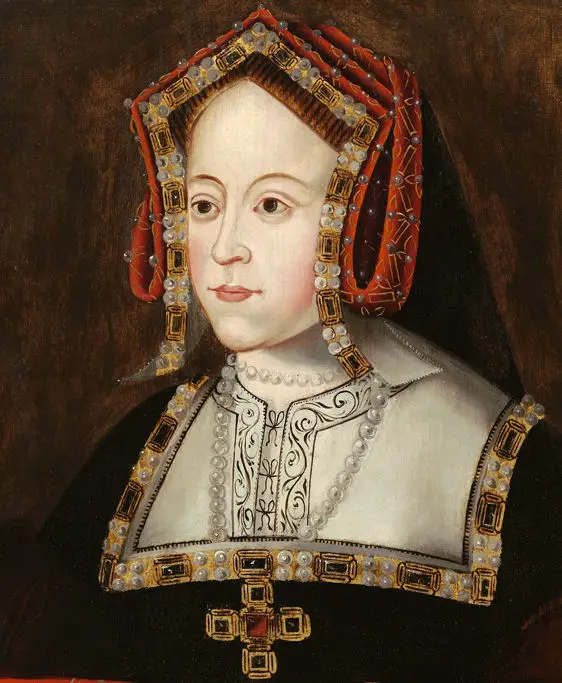 Mary's life changed in 1527. Her father, Henry VIII believed that his lack of male heir was a punishment from God for marrying his brother's wife. He had found a passage in Leviticus to back his belief and wanted a divorce from Catherine of Aragon so that he could remarry.
Catherine refused point blank to agree to a divorce or to enter a convent which would leave Henry free to re-marry. In a bid to force Catherine to agree Henry forbade her from seeing Mary. The lack of contact with her mother in addition to the drastic change in her circumstances had a bad effect on Mary and she began to experience mysterious bouts of illness. 
In March 1531, King Henry VIII agreed that Mary, who was in very poor health, could see her mother. It was the last time they would meet. Where it appears that Henry had some sympathy for his daughter, his second wife, Anne Boleyn did not. After Henry married Anne Boleyn in 1533, Mary's requests to visit her mother were all denied, even when it was clear her mother was dying.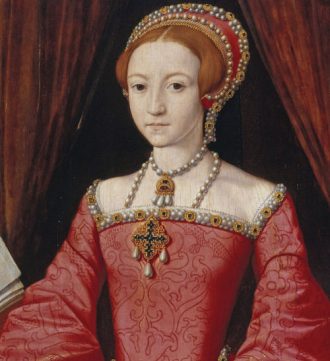 Mary's half-sister, Elizabeth, was born on 7th September 1533. Soon after her birth an Act of Succession was passed which stated that Mary was illegitimate and excluded her from the succession. She was no longer to be called Princess, instead her title was Lady Mary. 
Having refused to take the Oath of Succession, Mary was banned from court. Furthermore, her household was dismissed and she was told that she was to serve as Maid of Honour to the baby Princess Elizabeth. Although Mary was horrified by the change in her circumstances, she grew to love her half-sister and caring for Elizabeth served as an outlet for her maternal instincts. 
In 1536, Anne Boleyn fell from favour, was found guilty of adultery and executed by beheading. Henry VIII married Jane Seymour and a new Act of Succession gave Elizabeth the same status as Mary. 
The Spanish ambassador persuaded Mary to sign the Oath of Succession, telling her that the Pope would forgive her since it was clear she had no choice and was signing against her own belief. Mary returned to court in July 1536 and in October 1537 her half-brother Edward was born. 
How did Mary become Queen?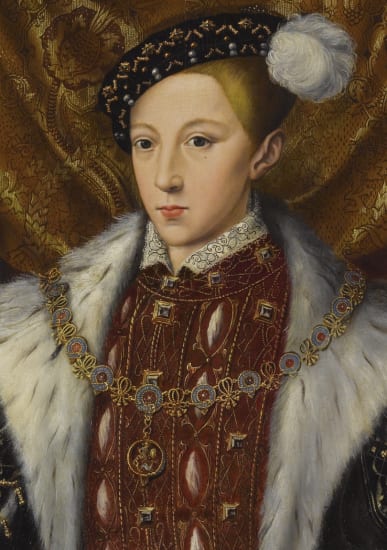 In 1544, Mary's father, Henry VIII drew up a new Act of Succession that decreed that Prince Edward would succeed his father as King. After him, the succession would lie with Edward's children followed by Lady Mary and then Lady Elizabeth.
King Henry VIII died on 28th January 1547 and Edward succeeded as King Edward VI. Because Edward was under age the country was governed by a regency council headed by Edward's uncle, Edward Seymour. 
The young king and the Seymour family were committed Protestants. In 1549 the Act of Uniformity introduced Protestantism into England and Wales. The Book of Common Prayer was to be used by all churches in the land. 
In 1550, John Dudley replaced Edward Seymour as Lord Protector. Dudley was also a Protestant and in 1552 a reformed Book of Common Prayer replaced the earlier version.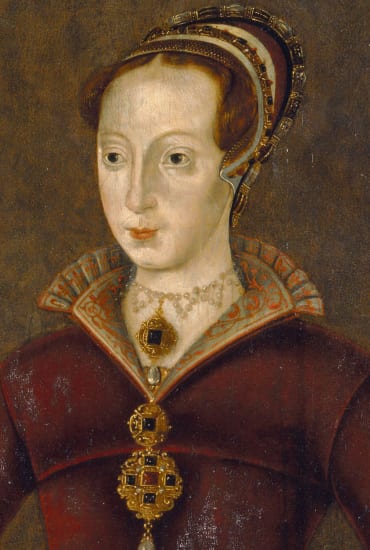 In the Spring of 1553, Edward became ill and it soon became clear that he was dying. According to the 1544 Act of Succession, Mary was next in line to the throne, but neither Edward nor Dudley wanted to see Catholicism restored. It was decided that Jane Grey, the Protestant granddaughter of Henry VIII's younger sister Mary, should succeed to the throne.
A document known as the Devise for Succession was drawn up and the leading councillors swore to see it was adhered to. In a bid to retain his powerful position, John Dudley married his son, Guildford, to Jane Grey.
King Edward VI died on 6th July 1553. However, news of his death was not released immediately because John Dudley hoped to capture Mary so that she could not challenge Jane's succession. However, Mary outwitted him.
The proclamation of Jane as Queen on 10th July was not well-received and when Mary raised her standard against Dudley, men flocked to join her army.
Mary was proclaimed Queen on 19th July. Lady Jane, Guildford and other members of the Dudley family were arrested and sent to the Tower of London. John Dudley was executed on 22nd August 1553 but the others were spared execution.
Queen of England, Ireland and Wales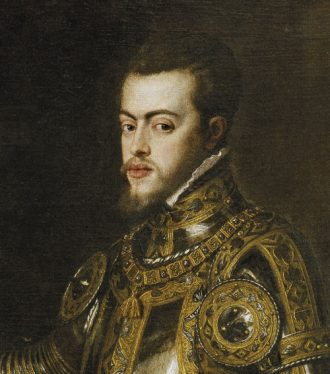 Mary I was 37 years old at the time of her accession. She knew that she had to marry and have children quickly before her child-bearing days were over. The man she chose to marry was Philip of Spain, son of King Charles V. However, the news was not well-received and there were protests against the marriage with many fearing England would become the vassal of Spain.
In February 1554, Thomas Wyatt, organised a rebellion against the Spanish match. His plan was to remove Mary from the throne and re-install Lady Jane Grey as Queen. Thomas Grey, Jane's father, joined Wyatt as they marched on London. 
The rebellion was put down and both Wyatt and Thomas Grey were executed. Realising that while Jane Grey was still alive there would be more rebellions in her favour, Mary reluctantly agreed the executions of Jane Grey and Guildford Dudley. They were beheaded on 12th February 1555. 
Queen Mary I and Philip of Spain were married on 25th July 1554. Within two months, Mary believed she was pregnant and showed all the signs of pregnancy but there was no baby. She experienced a second phantom pregnancy in 1558.
Philip proved to be far from the loving husband desired by Mary. Rather he spent a minimal amount of time in England returning to the continent often. After his father abdicated in his favour in 1556, Philip turned his attention to war and repeatedly begged Mary to commit English troops to support him. The resultant war with France saw the loss of Calais, England's last possession in France and a further loss of support for Queen Mary I.
Bloody Mary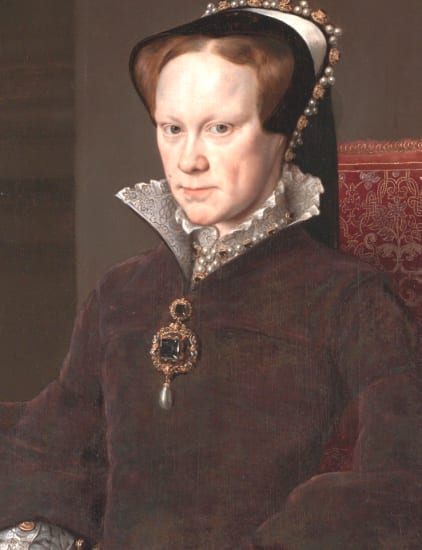 Queen Mary I is known to history as Bloody Mary. The name was given to her by Protestants eager to stop the move towards Catholicism and angry at her policy towards Protestants. Mary's husband, Philip of Spain supported her in her quest to return England to Catholicism.
The Catholic service, Holy Communion, and the elaborate fixtures and fittings of Catholic churches taken away during Edward's reign were immediately restored. In 1555, Parliament passed a set of Heresy laws that made it an offence to deny the established religion. All Protestants who refused to convert to Catholicism were to be burnt.
One of the first to go to the stake was John Rogers who had translated William Tynedale's Bible into English. The Bishops, Nicholas Ridley and Hugh Latimer as well as Archbishop of Canterbury, Thomas Cranmer, followed soon afterwards.
In all Queen Mary I was responsible for the burnings of 227 men and 56 women, mostly in the South East of England.
Death and Succession
Mary's health had not been good since childhood. After her two phantom pregnancies, Mary's health began to deteriorate and by October 1558 it was clear that she was dying. Philip had abandoned her and did not return to England to be at her side. Queen Mary I died on 17th November 1558 at St James's Palace. She was succeeded by her half-sister, Elizabeth.
Published Feb 16, 2022 @ 5:35 pm – Updated – Oct 13, 2022 @ 9:23 am
Harvard Reference for this page:
Heather Y Wheeler. (2022). Queen Mary I Bloody Mary 1516 – 1558 Available: https://www.tudornation.com/queen-mary-i-1516-1558 Last accessed [date]