Background to Edward's Birth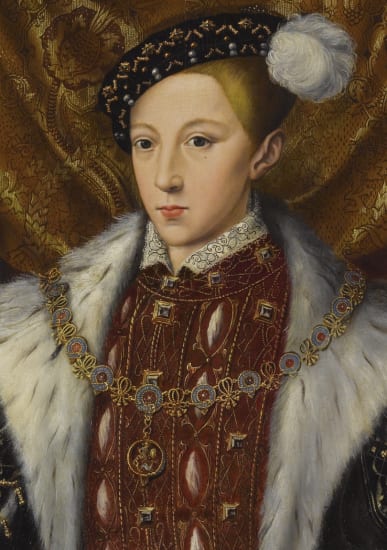 Edward was the only child of King Henry VIII and his third wife, Jane Seymour.
King Henry VIII was delighted with the birth of his long-awaited son and heir. He had long believed his lack of a male heir was God's punishment for marrying his brother's widow, Catherine of Aragon.
Catherine had refused to grant him a divorce, so that he could marry Anne Boleyn. Henry had made the Break with Rome and made himself Head of the Church in England to bypass the need for the Pope to sanction the divorce.
Like Catherine, Anne Boleyn was unable to give Henry a son. Their only child, Elizabeth, was born in 1533. Anne Boleyn was executed after being charged with treason for committing adultery with five men including her brother, George.
Henry married Jane Seymour on 30th May 1536. He was overjoyed when she announced her pregnancy in the Spring of 1537.
After a difficult labour, the future King Edward VI was born on 12th October 1537 at Hampton Court Palace.
Early Years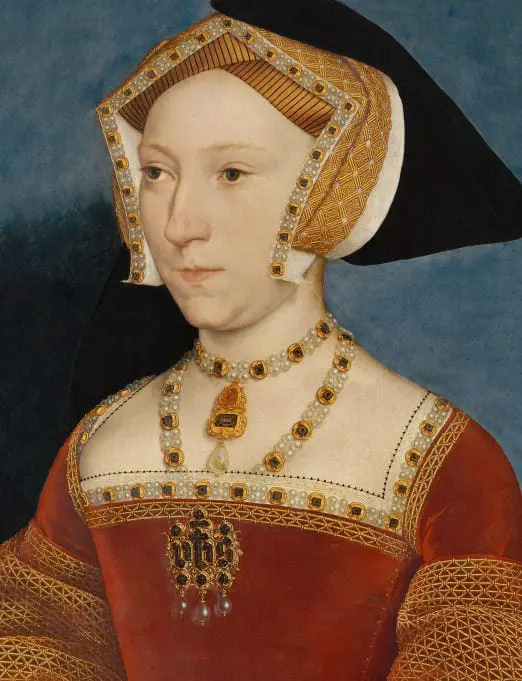 Prince Edward was christened on 15th October. His godparents were Thomas Howard, Duke of Norfolk, Thomas Cranmer, Archbishop of Canterbury and his half-sister Mary.
On 16th October, Jane Seymour became ill with diarrhoea and sickness, possibly caused by food poisoning since records indicate her eating 'unsuitable foods' after the birth. Although she recovered she was taken 'gravely ill' on 24th October and died that night. The King was very upset by her death and shut himself away for several days.
The young prince has his own household from birth. Sir William Sidney was given the task of running the household. He was responsible for the safety of Edward and had to make sure the security and cleanliness of the household met King Henry's express requirements. Margaret Bryan was appointed governess while his chief nursemaid was Sybil Penne. Later, Margaret Bryan was replaced by Blanche Herbert.
In 1541 Edward was taken ill with quartan fever, a type of malaria. Henry immediately dispatched his personal physician, Dr William Butts to the Prince's bedside. For a time it was believed that Edward would die, but then his health improved and he made a full recovery.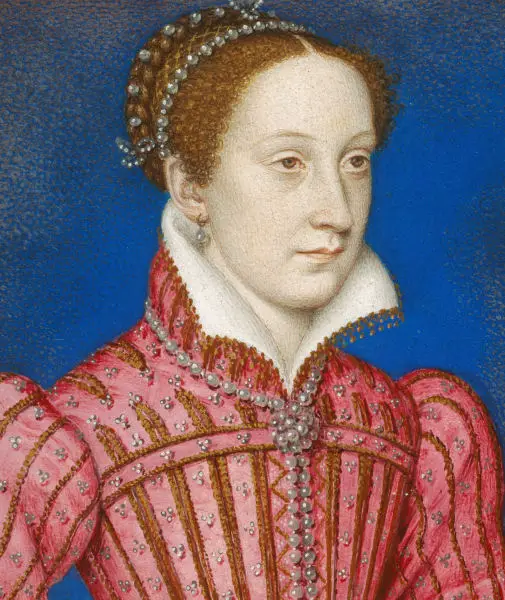 Prince Edward performed his first public duty on New Years Day 1543 when he entertained a group of Scottish noblemen that were in London to negotiate a treaty for the marriage of Edward to Mary Queen of Scots. The Treaty of Greenwich was signed on 1st July 1543. The Scots repudiated the treaty in December 1543 and negotiated for the young Scots Queen to marry the Dauphin of France instead.
In a bid to force the Scots to honour the Treaty of Greenwich he sent Edward's uncle, Edward Seymour to invade Scotland. Seymour's harsh treatment of the Scots was dubbed 'The Rough Wooing'.
At the age of six years, Edward began his education. He was tutored by Richard Coxe and John Cheke in languages, religion and philosophy. He sometimes joined his half-sister Elizabeth for lessons with her tutor, Roger Ascham. Edward also learned to play the lute and virginal and the latest dance steps and he was taught to ride horses and hunt.
The Influence of Katherine Parr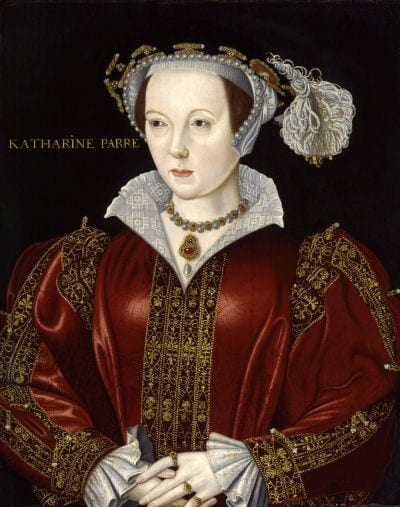 Henry VIII married Katherine Parr, his sixth wife, on 12th July 1543. She took great interest in Henry's children and for the first time, Edward spent time in the company of his half-sisters Mary and Elizabeth. The three children were at court in December 1543 for the Christmas celebrations.
Katherine Parr also took on the task of overseeing Edward's education. She was an educated woman and interested in Humanism and the teachings of Protestantism. Consequently, Edward received a Humanist education learning classics, theology, mathematics, geography and science in addition to the subjects he was already learning.
In 1544 a new Act of Succession was drawn up. The act named Edward as successor to Henry VIII followed by any children from his marriage to Katherine Parr, followed by his daughters Lady Mary and Lady Elizabeth.
In December 1546 King Henry VIII became ill and a Regency Council was drawn up to rule until Edward came of age.
King Edward VI of England, Wales and Ireland
King Henry VIII died in the early hours of 28th January 1547 and Edward became King Edward VI. Edward Seymour kept the King's death a secret until he had collected Edward from his residence and taken him to Hatfield House, residence of Lady Elizabeth. There he told both children of their father's death.
Seymour placed King Edward VI in the Tower of London to await his coronation. The young king was not allowed to see his step-mother, Katherine Parr or his half-sisters. Edward was crowned at Westminster Abbey on 20th February 1547.
The Rise and Fall of the Seymours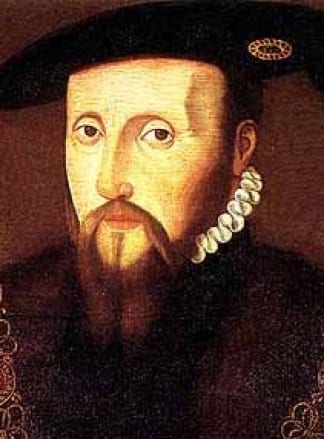 Soon after Edward's coronation, Seymour managed to get the members of the Regency Council to agree to him being head of the Council. On 16th February Seymour gave himself the title Duke of Somerset and his younger brother Thomas was created Lord High Admiral and created Baron Seymour of Sudeley Castle.
The following month King Edward VI signed a document giving his uncle, the power to appoint the members of the Privy Council. Of the sixteen members of the Regency Council, only Thomas Seymour and Thomas Wriothesley spoke against this move.
Edward Seymour continued the war with Scotland and France hoping to effect the marriage of King Edward VI to Mary Queen of Scots and unite the two countries.
Meanwhile, Thomas Seymour married Henry VIII's widow, Katherine Parr. Although she was in love with him it is likely he married her for power rather in love.
Katherine had been given custody of Edward's half-sister, Elizabeth and Seymour was often found in her presence and even her bedchamber. When Katherine discovered this she sent Elizabeth to live with Sir Anthony Denny for her own protection.
Katherine Parr died on 7th September after giving birth to a daughter, Katherine. Thomas Seymour began writing letters to Elizabeth almost certainly because he hoped to marry her.
Thomas Seymour was arrested in January 1549 on a charge of embezzlement of crown funds. He was found guilty and executed on 20th March 1549.
In January 1549, with Edward's full approval, Edward Seymour introduced the Protestant Book of Common Prayer to all English Churches. He also made changes to common law, particularly in respect of common grazing lands. By Spring there were riots throughout the country and members of the Privy Council were complaining about Seymour's rule.
Edward Seymour was arrested on 11th October 1549 and imprisoned. He was executed on 22nd January 1552.
The Rise of the Dudley Family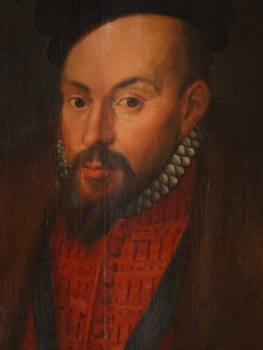 After the fall of Edward Seymour, John Dudley became Head of the Council. Dudley's first act was to negotiate an end to the ongoing war with France. The Treaty of Boulogne, signed on 28th March 1550 returned Boulogne to France for a ransom of 400,000. The French also agreed to remove all their troops from Scotland. The treaty was sealed with the betrothal of King Edward VI to Princess Elisabeth, daughter of the French King.
In 1551, John Dudley gave himself the title Duke of Northumberland.
The following year King Edward VI contracted smallpox. Although he survived the illness it had taken a toll on his health and he was much weakened. In the Spring of 1553 Edward was again taken ill and it was believed that he was dying.
Neither Dudley nor Protestant Edward wanted the heir to the throne, Catholic Lady Mary, to succeed. King Edward VI signed a document known as the Devise for the Succession which passed the succession to lady Jane Grey, granddaughter of Mary Brandon, Henry VIII's younger sister.
On 25th May 1553 John Dudley married his son, Guildford Dudley to Lady Jane Grey. It is believed that Jane's parents forced her into the marriage against her will.
Death and Succession
King Edward VI died on 6th July 1553. As per the Devise for the Succession, Lady Jane Grey succeeded as Queen, but the death of Edward and her succession were not made public until 10th July 1553.
To the annoyance of the Duke of Northumberland, Jane declared that she would never allow her husband to be King.
Northumberland had hoped to capture both Mary and Elizabeth, but they had outwitted him and when he saw that huge numbers of people turned out for Mary he decided to change sides.
On 19th July 1553, Mary rode into London with Elizabeth by her side. She was proclaimed Queen Mary I. Jane, Guildford and John Dudley were charged with treason.
John Dudley was executed on 22nd August 1553, Jane Grey and Guildford Dudley were executed in February 1554 after Thomas Wyatt led a rebellion against Mary which planned to set them on the throne.
Published Jan 8, 2022 @ 6:35 pm – Updated – Oct 13, 2022 @ 9:23 am
Harvard Reference for this page:
Heather Y Wheeler. (2022). King Edward VI 1537 – 1553 Available: https://www.tudornation.com/king-edward-vi-1537-1553 Last accessed [date]