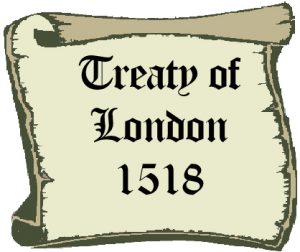 Henry VIII Treaties Timeline
A chronology of Tudor Treaties and Oaths in the reign of Henry VIII
Please note this timeline is a work in progress
1509 (9th November)
Perpetual Peace with Scotland
Henry VIII renewed this 1502 peace treaty with King James IV of Scotland. A new clause was added to the treaty which promised excommunication by the Pope if either king broke any of the clauses in the treaty.
1510 (23rd March)
Peace with France
Henry renewed the peace with France which had been signed by his father. The peace was extended for a further year.
1510 (24th May)
Peace with Spain
A peace treaty was agreed with Ferdinand of Spain.
5th October 1511
Holy League
This League was formed by The Pope, Venice and Spain, all of whom wished to remove the French from Italy. The aims of the League were:
to protect the church
to recover Bologna from the French
to restore to Venice all her conquered territories.
A clause was included in the treaty which gave Papal backing to all Spanish conquests outside Italy.
13th November 1511
Holy League
Henry VIII joined the Holy League of Spain, Venice and the Pope. He hoped this move would help him to conquer lands in France.
17th November 1511
Treaty of Westminster
This was signed by Henry VIII and Ferdinand of Spain. The Treaty agreed that both England and Spain would attack France before the end of April 1512. Ferdinand would attack the French in Italy while Henry would invade northern France. A joint Anglo-Spanish force would also attack Aquitaine, a former English vassal state.
16th March 1512
Auld Alliance
Scotland and France renewed this treaty of mutual support.
August 1512
Auld Alliance – France and Scotland
Louis XII of France told James IV of Scotland that the terms of the Auld Alliance meant that Scotland was now at war with England.
1st April 1513
Treaty of Orthez
Henry's ally and father-in-law, Ferdinand of Spain, secretly agreed a year-long truce with France. He used knowledge of Henry VIII's upcoming invasion to secure a better deal for Spain.
5th April 1513
Treaty of Mechlin
This treaty was signed by the Pope, Holy Roman Emperor Maximillian, Ferdinand of Spain and Henry VIII of England. The terms bound them to declare war on France within the month.
18th April 1513
Anglo-Spanish Treaty
A treaty was signed in London by Ferdinand of Spain and Henry VIII. The Spanish agreed to invade Guienne in Henry's name for a payment of 100,000 crowns. At the same time the English would begin an invasion of northern France.
Late April 1513
Treaty of Mechlin
Ferdinand of Spain was forced to admit to his secret treaty with France and withdraw from this treaty.
17th October 1513
Treaty of Lille
With winter fast approaching, further hostilities in France were abandoned. This treaty was signed by Henry, Maximillian and Ferdinand. It bound them to make a combined invasion of France before June 1514. The treaty was to be sealed with the marriage of Ferdinand's grandson, Charles, to Henry's younger sister, Mary.
after 17th October 1513
Treaty of Lille
Thomas Wolsey was not happy with the terms of the treaty. In particular he felt that Henry's sister, Mary could make a better marriage. Wolsey knew that the French King's wife was ailing and felt that a match with France could bring favourable terms.
Published Feb 17, 2021 @ 1:11 pm – Updated – Oct 13, 2022 @ 7:48 pm
Harvard Reference for Henry VIII Treaties Timeline:
Heather Y Wheeler. (2021). Henry VIII Treaties Timeline Available: https://www.tudornation.com/henry-viii-treaties-timeline Last accessed [date]