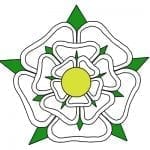 The white rose was first used as an emblem by Edmund of Langley, son of King Edward III. Edmund had been created first duke of York in August 1385 and chose the emblem soon afterwards.
It is believed that it was chosen as a symbol of the Virgin Mary who was known as the Mystical Rose.
The white rose soon became synonymous with the city of York.
The white rose of York and the red rose of Lancaster have become symbols of the Wars of the Roses. However, it is unlikely that either side displayed roses during the conflict. Nor was the conflict named the Wars of the Roses at the time. It is thought likely that the conflict gained its name from the scene in Shakespeare's play Henry VI where he depicts members of both houses choosing roses in a garden.
First published 2017; updated and re-published Jul 18, 2020 @ 8:35 pm – Updated – Oct 13, 2022 @ 11:15 am
Harvard Reference for this page:
Heather Y Wheeler. (2017 – 2021). White Rose of York Available: https://www.tudornation.com/white-rose-of-york Last accessed [date]