Thomas Stanley Introduction
Thomas Stanley, Earl of Derby, was the fourth husband of Margaret Beaufort, mother of King Henry VII.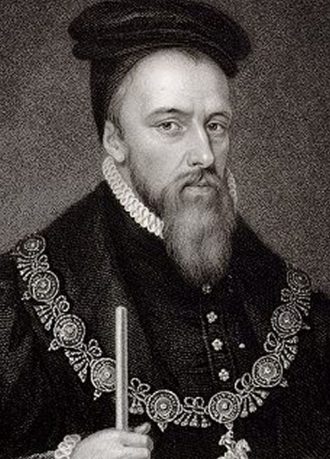 Stanley was born around 1435 to Thomas Baron Stanley and Joan Goushill. Little is known of his life until his marriage to Eleanor Neville, daughter of Richard Neville, at the age of 16 years. Thomas and Eleanor had eleven children before Eleanor's death in 1472.
In 1454, Thomas Stanley became a squire to King Henry VI. Stanley's father-in-law, Richard Neville, was very influential and gained the nickname 'Kingmaker' because during the Wars of the Roses those he backed became King. It is likely that he secured a position at court for his new son-in-law.
This conflict broke out on 22nd May 1455 when Richard Duke of York, challenged the weak rule of Lancastrian King Henry VI. As a member of court, Thomas Stanley gave his support to the Lancastrians but refused to raise a force or fight. Stanley's brother, William chose to support York.
On 30th December 1460, Richard Duke of York was killed in battle. The Duke's son, Edward took his father's place as challenger to King Henry VI. At this point Thomas Stanley actively supported his father-in-law in securing the defeat of the Lancastrians an placing Edward on the throne.
King Edward IV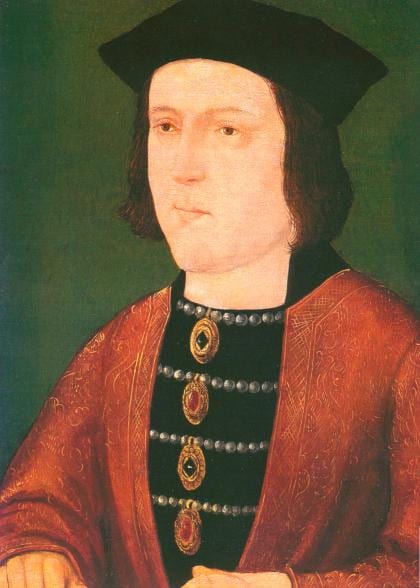 On 4th March, Edward, Duke of York, marched into London and took the throne as King Edward IV. Stanley's father-in-law, Richard Neville, became Advisor to the King and set about negotiating an alliance with France to be sealed with a marriage between Edward and a French princess.
In September 1464, King Edward IV infuriated Warwick when he revealed he has secretly married Elizabeth Woodville, daughter of Baron Rivers. Soon afterwards, the King began giving influential positions to his wife's father and brothers.
Warwick decided to transfer his allegiance to Edward's younger brother, George Duke of Clarence. He planned to overthrow Edward and place George on the throne. Thomas Stanley initially decided to remain with the King but later joined his father-in-law.
Warwick did not place George on the throne but worked to restore King Henry VI. This was achieved in October 1470. However in the Spring of 1471, Edward returned and re-took the throne. Warwick was killed in battle and Henry was captured and imprisoned in the Tower of London. In May 1471, King Edward IV returned to London, it is believed Henry VI was murdered on the same day.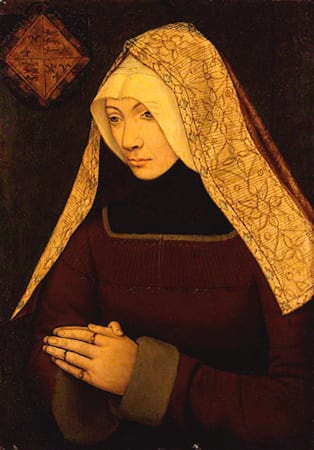 Thomas Stanley retained his position at court and in 1472 married Margaret Beaufort, mother of Henry Tudor, the Lancastrian claimant to the throne. The marriage was one of convenience, she brought Stanley her vast inheritance while Stanley, a royal courtier, could help gain Margaret favour with Edward IV and so protect her son's interests.
King Edward IV died suddenly in April 1483 and was succeeded by his 12 year old son, Edward. King Edward's brother, Richard Duke of Gloucester was appointed Regent for the young King. However, after it was revealed that Edward IV's marriage was invalid due to a precontract, Richard took the throne for himself.
The two sons of Edward IV disappeared without trace and are known as the Princes in the Tower. It has been traditionally thought that Richard murdered his nephews to become King. It is now believed that the boys were murdered by the Constable of the Tower possibly on the order of Margaret Beaufort since it placed her son, Henry Tudor, nearer to the throne.
Thomas Stanley gave his support to King Richard III and retained his place at court. In the Summer of 1483, Margaret Beaufort was stripped of her titles and possessions for supporting the Duke of Buckingham's rebellion. She was placed under house arrest with her husband as her captor.
Henry Tudor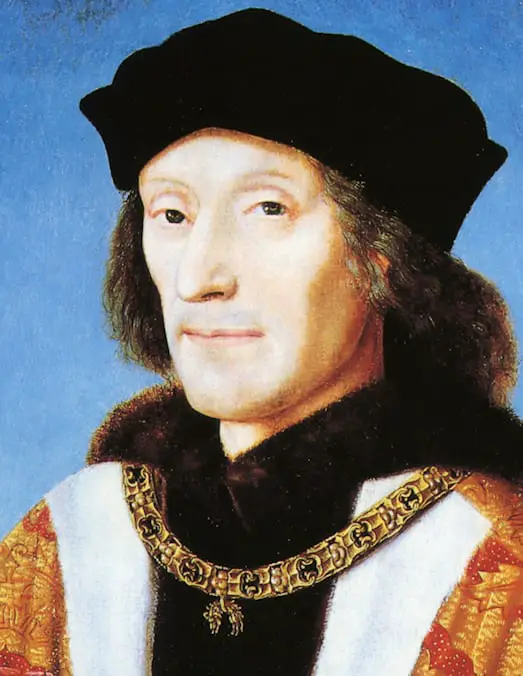 Despite being under house arrest, Margaret Beaufort worked with Elizabeth Woodville to secure the throne for Henry Tudor. It was agreed that Henry would marry Elizabeth Woodville's eldest daughter, Elizabeth of York when he became King.
In August 1485, Henry Tudor landed at Milford Haven and marched inland. Despite being ordered by Richard, Thomas Stanley delayed raising a force claiming he was too ill to lead an army. In mid-August he raised his force but did nto ddeclare for either side.
On 22nd August 1485 Henry Tudor and King Richard met at Bosworth Field. Both Thomas and William Stanley marched to the field but kept their armies on a hill overlooking the battle to see which way the battle would go. Thomas and his brother William eventually joined with Tudor. Richard was killed during the battle and Thomas Stanley found Richard's discarded crown and placed it on Henry Tudor's head.
Henry Tudor took the throne as King Henry VII. Thomas Stanley was appointed Lord High Constable of England and High Steward of the Duchy of Lancaster.
In 1487, Stanley supported Henry Tudor in defeating the forces of Pretender to the throne, Lambert Simnel. Stanley was rewarded with lands that had been confiscated from those loyal to Simnel.
Thomas Stanley died on 29th July 1503 at Lathorn, Lancashire.
Published May 21, 2022 @ 4:50 pm – Updated – Oct 13, 2022 @ 7:59 pm
Harvard Reference for this page:
Heather Y Wheeler. (2022). Thomas Stanley 1435 – 1503 Available: https://www.tudornation.com/thomas-stanley-1435 – 1503 Last accessed [date]