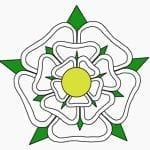 The white rose was adopted as an emblem by Edmund of Langley, son of Edward III who was created the first duke of York in August 1385. It is believed that the rose was chosen as a symbol of the Virgin Mary who was known as the Mystical Rose.
Although the Duke of York was not resident in York, the white rose became synonymous with York.
The white rose of York and the red rose of Lancaster have become symbols of the Wars of the Roses. However, it is unlikely that either side displayed roses during the conflict. It is more likely that the war gained its name due to the scene in Shakespeare's play Henry VI where he had members of both houses choosing roses in a garden.
Harvard Reference for this page:
Heather Y Wheeler. (2017). White Rose of York Available: http://www.tudornation.com/white-rose-of-york Last accessed November 14th, 2018
You may also like
The history of fifteenth century England is dominated by a power struggle between rival descendants of Edward III that came to be known as the Wars of the Roses. The descendants of John of Gaunt were Lancastrians represented by a red rose. The descendants of Edmund of Langley were…

  The Wars of the Roses is the name given to a series of conflicts in the fifteenth century between the members of the House of Lancaster and the House of York.  It was called the Wars of the Roses because the House of Lancaster, was represented by the red…

  The red rose was adopted as an emblem by the first earl of Lancaster, Edmund, son of Henry III in August 1265. It is believed that the species he chose was Rosa Gallica, a cultivated rose. Although subsequent earls of Lancaster kept the emblem it did not form any…

Please click on links for explanation B Bosworth Field, Battle of C Catherine of Valois E Edmund Tudor England 1500 J Jasper Tudor L Lambert Simnel M Margaret Beaufort P Perkin Warbeck R Red Rose of Lancaster Retainers T Tudor Rose W Wars of the Roses White Rose of York

A Arthur Tudor 1486 - 1502 C Catherine of Valois 1401 - 1437 E Edmund Tudor 1430 - 1456 Elizabeth of York Elizabeth Tudor 1492 - 1495 J Jasper Tudor 1431 - 1495 L Lambert Simnel 1477 - 1534 M Margaret Beaufort 1443 - 1509 Margaret Tudor 1489 - 1541…