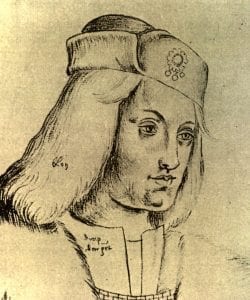 The origins of the pretender Perkin Warbeck are not known for sure. Historians have set his origins using information from the confession he made in 1497 when he was captured, where he stated that he was born in Tournai in 1474, the son of a poor burgess, Jehan de Werbecque and his wife Katherine de Faro. Local records in Tournai show that a Jehan de Werbecque did live in the city at the time of Warbeck's birth.
In 1491 Warbeck landed in Ireland as a silk merchant's apprentice where he claimed that he had been recognised as the the younger of Edward IV's sons, Richard, Duke of York. He gained notoriety and in 1492 the sister of Edward IV, Margaret of Burgundy invited him to her court where she acknowledged him as her nephew. In France King Charles VIII also acknowledged him as Richard, Duke of York, son of Edward IV.
By 1493 Warbeck was in living in Antwerp as Richard Duke of York. With the aid of his 'aunt', Margaret of Burgundy he began to amass an army. In 1494 he was proclaimed the rightful King of England by Maximilian I, Holy Roman Emperor. 
By the Summer of 1495 Warbeck had amassed an army of 2,500 men and had 14 ships at his disposal. Before launching a full-scale invasion of England he decided to see if he could count on any support from the traditionally rebellious county of Kent. He sailed his ships to Deal in Kent and anchored offshore. He then sent a few men to land to see what their reception would be. The invaders were rounded up by the Sheriff of Kent and Warbeck decided to sail to Ireland. 
Warbeck reached Waterford in Ireland three weeks later on July 23rd. He now had just 11 ships two having been blown off course and one held in Deal following the abandoned invasion. Waterford was, by tradition, a Royalist city so Warbeck placed it under siege. The siege failed and Warbeck marched to Cork. Having failed to gain much support in Ireland Warbeck decided to sail to Scotland. He landed in Scotland at the end of November where he was given a state welcome by King James IV. He was also fitted with lavish clothes and entertained like a King.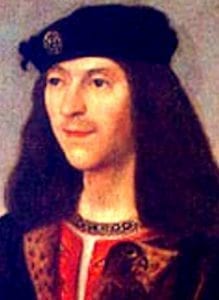 As a show of his belief in the Pretender, James IV effected a marriage between Warbeck and Lady Catherine Gordon, the beautiful, rich daughter of a Scottish nobleman. In September 1496 James IV invaded England in support of the Pretender. He hoped to gain support from the Northern counties to march to London. However, the Northumbrians did not show much support and the Scottish army retreated to Scotland. Henry VII called for the English parliament to raise money through taxation to strengthen defences along the Scottish border. The new tax was not popular and caused a revolt by the Cornishmen who said they were too far removed from Scotland to have to pay for the defence of the border.
In July 1497 Henry VII issued an ultimatum to James IV of Scotland stating that if he did not surrender the Pretender Perkin Warbeck the two countries would be at war. James IV did not want war with England and realising that since there had been little support in England for Warbeck he would be better making an alliance with England. He did not surrender Warbeck to Henry but instead provided him with a boat and told him to leave Scotland.
Warbeck made port at Cork where he received some support. He then decided to utilise the unrest in Cornwall and in September 1497 landed at Whitesand near Land's End in Cornwall. On 10th September 1497, the people of Bodmin proclaimed him King of England. Warbeck marched on and a week later lay siege to the town of Exeter. Unfortunately he was beaten back with a loss of 500 men. Soon afterwards he learned that a Royal army was stationed nearby so he took a few trusted men and rode for Southampton hoping to find safe passage back to the continent. Upon reaching Southampton Warbeck found a manned fleet in port awaiting his arrival. He fled again but was captured at Beaulieu on 5th October.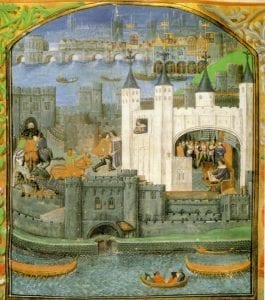 Hoping to save himself, Warbeck confessed to being an imposter and begged forgiveness. He was imprisoned in the Tower of London. In the Summer of 1498 Warbeck escaped from a window in the Tower and made for the coast. He later surrendered to the abbot of the monastery at Sheen. He was returned to the Tower of London. In 1499 Warbeck was corresponding with the Earl of Warwick, son of Edward IV's brother George, who was also imprisoned in the Tower. The letters were discovered and revealed that the pair planned to escape and overthrow the King. As a foreigner Warbeck could not be tried for treason but instead was charged with escaping imprisonment and sentenced to death. The Earl of Warwick was found guilty of treason and was also sentenced to be executed. Perkin Warbeck was hanged at Tyburn on 23rd November 1499. Warwick was beheaded five days later.
Harvard Reference for this page:
Heather Y Wheeler. (2017). Perkin Warbeck 1474 – 1499 Available: http://www.tudornation.com/perkin-warbeck-1474-1499 Last accessed February 16th, 2019
You may also like
Lambert Simnel, born in around 1477, was a boy of ten when he was put forward by the leaders of the House of York as Edward, Earl of Warwick, the son of Edward IV's younger brother, George Duke of Clarence. Simnel's father may have been an organ maker, joiner…

Edmund Tudor was the father of King Henry VII, founder of the Tudor dynasty. Childhood Edmund was born in 1430 to Catherine of Valois and Owen Tudor. Catherine was the widow of King Henry V and mother of King Henry VI, while Owen Tudor was the keeper of Catherine's…

A chronology for the years 1497 and 1498 for Henry VII's reign showing dates, events and details. Events are coded:  Births, Baptisms, Marriages and Deaths  Trials, Imprisonments and Executions   Wars, Battles and Rebellions Education, Art and Culture Property and Possessions Titles and Appointments Acts of Parliament Treaties and…

A chronology for the years 1493 and 1494 for Henry VII's reign showing dates, events and details. Events are coded:  Births, Baptisms, Marriages and Deaths  Trials, Imprisonments and Executions   Wars, Battles and Rebellions Education, Art and Culture Property and Possessions Titles and Appointments Acts of Parliament Treaties and…

A chronology for the years 1491 and 1492 for Henry VII's reign showing dates, events and details. Events are coded:  Births, Baptisms, Marriages and Deaths  Trials, Imprisonments and Executions   Wars, Battles and Rebellions Education, Art and Culture Property and Possessions Titles and Appointments Acts of Parliament Treaties and…