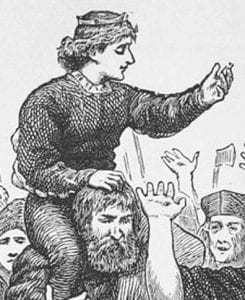 Lambert Simnel, born in around 1477, was a boy of ten when he was put forward by the leaders of the House of York as Edward, Earl of Warwick, the son of Edward IV's younger brother, George Duke of Clarence.
Simnel's father may have been an organ maker, joiner or baker who had his son educated by Richard Symonds, a priest from Oxford, a committed Yorkist who opposed Henry VII's place on the throne. It was Symonds who came up with the idea to try to have Simnel accepted as the Earl of Warwick after noting that the boy had some likeness to Edward IV. To improve the chances of the ruse being believed, Symonds put about the rumour that the Earl of Warwick had escaped imprisonment in the Tower of London.
Symonds decided that Simnel should begin his challenge to the throne in Ireland because the Irish had traditionally supported the Yorkists. The Earl of Kildare was convinced and Lambert was crowned King Edward VI in Christ Church Cathedral, Dublin on 24th May 1487. Lambert was also supported by Edward IV's daughter, the duchess of Burgundy who sent an army of around 2,000 to Dublin to support his cause.
On 4th June 1487 Lambert's army, led by John de la Pole, Earl of Lincoln, landed at Furness in Lancashire and began to march towards London. Meanwhile Henry mustered his army and marched north. The two armies met at Stoke near Newark. The Battle of Stoke lasted around 3 hours and although Lambert's force had some early success, they were no match for Henry's army and nearly half of Lambert's army were killed.
Richard Symonds, the orchestrator of the rebellion, was imprisoned for life. Henry knew that Simnel had been an innocent pawn in the scheme and put him to work in the royal kitchen. He later became Henry VII's falconer. He died in 1534.
You may also like
The origins of the pretender Perkin Warbeck are not known for sure. Historians have set his origins using information from the confession he made in 1497 when he was captured, where he stated that he was born in Tournai in 1474, the son of a poor burgess, Jehan de…

A chronology of the years prior to the accession of Henry VII - 1461 to 1484 showing dates, events and details. Events are coded:  Births, Marriages and Deaths  Trials, Imprisonments and Executions   Wars, Battles and Rebellions Property and Possessions Titles and Appointments Acts of Parliament Treaties and oaths…

Elizabeth of York was the daughter of King Edward IV. She married Henry Tudor after he defeated Richard III at Bosworth Field and became King. Their marriage ended the War of the Roses. She had four children that survived to adulthood: Arthur Prince of Wales, Henry VIII;  Margaret Queen…

A chronology for the years 1499 and 1500 for Henry VII's reign showing dates, events and details. Events are coded:  Births, Baptisms, Marriages and Deaths  Trials, Imprisonments and Executions   Wars, Battles and Rebellions Education, Art and Culture Property and Possessions Titles and Appointments Acts of Parliament Treaties and…

A chronology for the years 1493 and 1494 for Henry VII's reign showing dates, events and details. Events are coded:  Births, Baptisms, Marriages and Deaths  Trials, Imprisonments and Executions   Wars, Battles and Rebellions Education, Art and Culture Property and Possessions Titles and Appointments Acts of Parliament Treaties and…